Decks & Exterior Protection
Exterior protection for siding, decks, furniture and millwork.
Should you protect your wood home with a water or an oil-based coating? With Sansin's line of Exterior Enviro Stains, you can have the best of both worlds. Modified natural oils and resins are carried deep into the wood's cell structure using one of nature's commonplace miracles – water. As the water evaporates, Sansin bonds directly with the wood substrate, forming a tough, durable barrier that won't crack, peel or blister.
Sansin's unique formulas offer every possible level of finish – from penetrating natural finishes, to high-gloss barrier coatings, you can match the look of your Enviro Stain with the protection your project needs.
No matter which Sansin exterior product you choose, you can count on exceptional beauty and lasting performance.
THE SCIENCE BEHIND HEALTHY WOOD.
Wood is a tremendously versatile material – and as long as it's protected, a strong and durable one. Water, ultraviolet (UV) rays and fungi can all seriously damage your wood exterior. Sansin's penetrating formulas let wood "breathe" more freely, improving dimensional stability and allowing wood to adjust naturally to moisture levels in the environment. Sansin forms a monolithic bond with your wood that aggressively repels condensed water while allowing moisture vapor to escape.For barrier coat applications, Sansin offers high-build formulas that lock out moisture and offer maximum UV protection. The paraffin waxes that protect against water in many water and solvent-based coatings are easily damaged by exposure to UV radiation – just 5 hours of direct sunlight can reduce their water repellency dramatically. Sansin's modified natural oils and resins are impregnated with special UV protectants so every exposed cell of your wood is protected. Because of their unique formulation, Sansin Enviro Stains also help protect naturally against wood rot.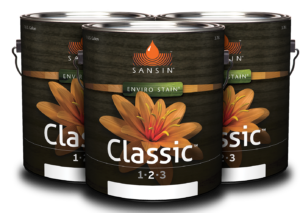 CLASSIC SYSTEM
High-performance penetrating system for log homes. Penetrating environmentally-friendly three-coat system designed for big timber and logs in exterior applications.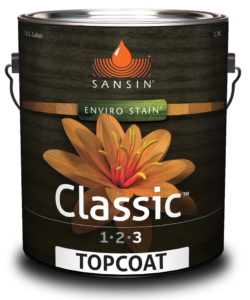 CLASSIC TOP COAT
Delivers a highly water-repellent finish and maintenance coat. Use over existing Classic finishes as a durable maintenance coat for additional water repellence and beading.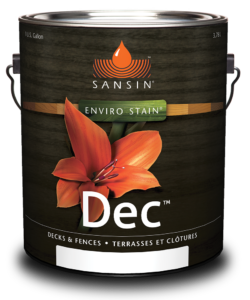 DEC
Penetrating two-coat protection for decks. Perfect for all kinds of wood – pressure-treated, cedar, pine and more. Easily applied, easily maintained, exceptionally beautiful. Won't crack, peel or blister.
ENS
Beautiful premium finish for any project, new or old. Enhances the beauty of almost any wood surface with an exceptionally tough, durable finish. Highly resistant to wear and UV – available in satin or gloss.
ENS NATURALS TOP COAT
Penetrating one-coat finish for exterior wood. Exceptionally versatile protection for siding, logs, decks and fences. Beautiful, durable, highly water-repellent, breathable and UV-resistant.
ENS OPTIMUM CLEAR
Delivers a highly water-repellent finish and maintenance coat. Use over existing Classic finishes as a durable maintenance coat for additional water repellence and beading.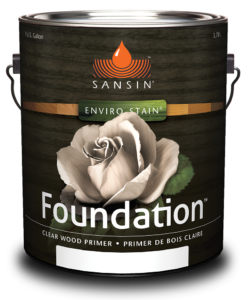 FOUNDATION
Penetrating base coat that improves top coat performance. Penetrating base coat that protects against weathering and UV. Easily topcoated – designed to enhance topcoat performance.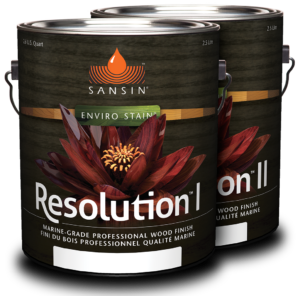 RESOLUTION
Designed for furniture, doors and other marine and land-based applications where UV resistance and moisture protection are a must, the Resolution system delivers brilliant clarity combined with chemical, scratch and water resistance.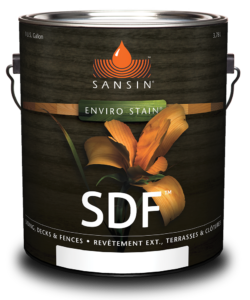 SDF
A clear top-coat for natural wood tones. Engineered as a top-coat finish or as a long-lasting maintenance coat for Natural ENS base colors. Resistant to wear, highly UV stable and loaded with UV inhibitors to prevent discoloration.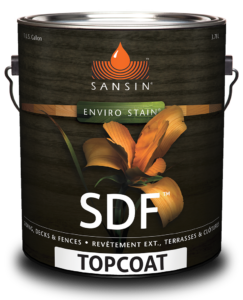 SDF TOPCOAT
Delivers a highly water-repellent finish and maintenance coat. Use over existing Classic finishes as a durable maintenance coat for additional water repellence and beading.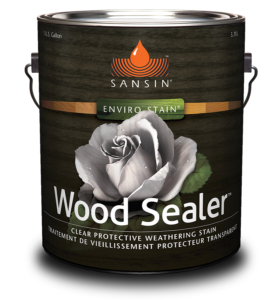 WOOD SEALER
Premium protection, with the look of naturally-weathered driftwood. Zero-VOC water-borne penetrating sealer that aggressively repels water while allowing wood to bleach to a uniform driftwood silver.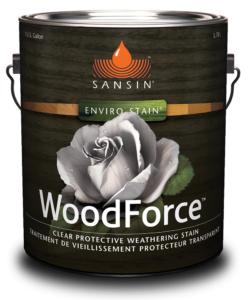 WOODFORCE
Sansin WoodForce repels water while allowing wood to breathe. Over a short period of time, the wood will weather uniformly, yet retain water-repellency and protect against weathering and wood rot. Easily mixed to create standard and custom barnboard colors or vintage effects, while letting the exposed surface weather naturally and more evenly.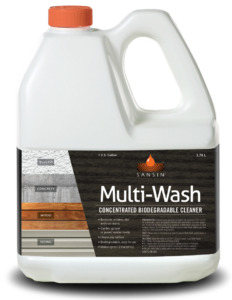 MULTI-WASH
Biodegradable cleaning for practically any surface. Concentrated cleaner that easily removes mildew, dirt, rust stains and more. Power washer ready.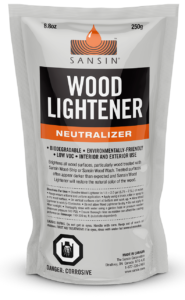 WOOD LIGHTENER
Effective wood lightener for bare wood surfaces. Biodegradable cleaner and lightener that effectively brightens and removes mold, iron, weathering and other discoloration commonly found on wood.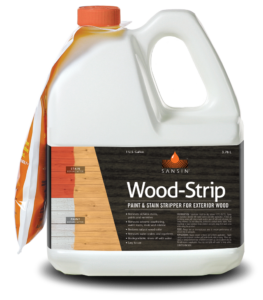 WOOD-STRIP
Effectively removes old paint and stain coatings. Removes old stains and paints while restoring wood. Biodegradable, rinses off with water.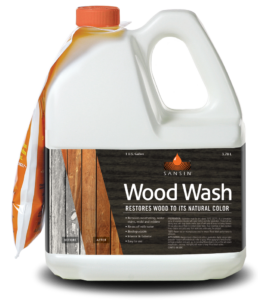 WOOD WASH
Restore the natural tones of your wood surface. Highly effective in removing unsightly weathering, mold, algae, mildew, staining and extreme oil and grease. Restores wood quickly.
Select The Perfect Colour For Your Project!